Persuasion is the best Jane Austen novel for many reasons, not least because it's Austen at the height of her powers. Persuasion was the last novel she completed and it's a triumph of feeling, wit and character. I read it again recently needing something familiar and comforting and always find something new in its clever turns of phrase and emotional plotting.
If you haven't read or seen the various TV adaptations (the Sally Hawkins one is my favourite) here's a quick recap. The story follows Anne Elliot, the middle daughter of a ridiculous family led by the vain Sir Walter Elliot whose lack of financial understanding leads them to quit their family home and rent it out to save expenses. This kicks off the plot for bringing back into Anne's social sphere of a certain Captain Wentworth, a naval officer whom she once intended to marry until she was persuaded to refuse him by a family friend (and stand-in mother figure) due to his lack of fortune. The rest follows from there with a healthy amount of longing looks and demonstrations of Anne's superiority to all other women around her, with a few dramatic illnesses, accidents and misunderstandings throw in and of course the typical Jane Austen bad boy.
It's not so much the love story that I'm interested in this time around but the little comments and asides that seem pertinent to today. So here are some life lessons I found while reading Persuasion this time around:
she believed she must now submit to feel that another lesson, in the art of knowing our own nothingness beyond our own circle, was becoming necessary
A lot of the time people aren't thinking about you so don't worry about it.
---
He had, in fact, though his sisters were now doing all they could for him, by calling him "poor Richard", been nothing better than a thick-headed, unfeeling, unprofitable Dick Musgrove, who had never done anything to entitle humself to more than the abbrevation of his name, living or dead.
People will remember you more fondly when you're dead than when you're alive. And also don't cross Jane Austen because she is capable of incredibly sick burns.
---
Yes, — he had done it. She was in the carriage, and felt that he had placed her there
Not so much a life lesson but just the way Austen captures that feeling of someone doing something for you without you realising 'cos you're overwhelmed by their presence. I guess a lesson in the physicality of a person and thinking you're over someone when you're very much not. All the action happens in the midst of that one em-dash and Anne is left reeling from the emotion of Wentworth having touched her. It reminds me of the famous close-up shot of Mr Darcy's hand flex in Joe Wright's version of Pride & Prejudice.
She thought it could scarcely escape him to feel, that a persuadable temper might sometimes be as much in favour of happiness, as a very resolute character.
Variations of the word 'persuasion' pop up in Persuasion which mentally always make me go !!! — like when they say the name of the film in a film. One of the major plot points of the book is how Anne's opinion was swayed by another in her youth and nearly cost her the man she loves. Now that Anne is older she has learnt to counsel other people's advice with her own sense of what is right. Anne is, to be honest, being a little smug here in wishing to prove her own point that one should bend a little in their opinions rather than be so set in your own; seeing how this is said after Anne's potential love-rival has cracked her head open because she didn't listen to Wentworth telling her not to jump off the Cobb in Lyme (if that doesn't make you want to read this book I don't know what will — the drama!!). But in my opinion, Anne is probably right here. No one so proper as Anne!
---
She hoped to be wise and reasonable in time, but alas! alas! she must confess to herself that she was not wise yet.
We all do stupid things some times.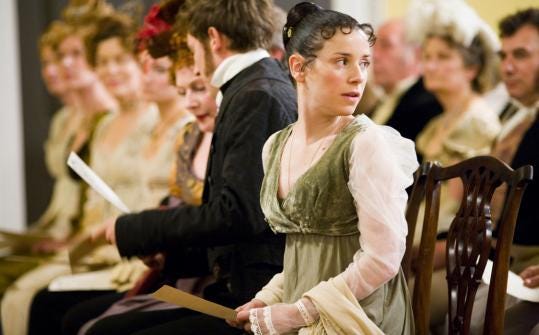 Captain Wentworth left his seat, and walked to the fireplace; probably for the sake of walking away from it soon afterwards, and taking a station, with less barefaced design, by Anne.
No lesson here, just wanted to note Wentworth's smooth moves to get closer to his lady-love.
---
Men have every advantage of us in telling their own story. Education has been theirs in so much higher a degree; the pen has been in their hands. I will not allow books to prove any thing.
Jane Austen knew what was up.
---
You can listen to an audio version of this newsletter below.
Our archive can all be found here
If you have a tiny narrative to share please get in touch at thetinynarrative@gmail.com