Walking the city


Before The Great Pandemic of 2020, I was quite down about living in Leeds city centre. It wasn't anything the city had done, it was more that I left it every morning to go to work and came back when it was dark. At the weekend I was so tired I rarely ventured outside the places I had known when I last lived here ten years ago: rifling through the rails in TKMaxx, Hyde Park Picture House, the art gallery where I worked after graduation. With hindsight, I was forcing myself to feel at home in a place I barely spent any time. My usual energy and enthusiasm for exploring, discovering new independent cafes to eat lunch, drink craft ale and thumb through second-hand books had evaporated. It made me feel lonely, disconnected. I felt myself sliding towards exhaustion. Without wanting to romanticise what is a distressing rupture to everyday life, during COVID-19, I have felt more part of a wider community than I have in years: I have ordered my bread from Bluebird Bakery, clapped for carers with the rest of my neighbours, walked up to Hyde Park Book Club - where I have been desperate to go since I moved back to Leeds - and queued there in the sun to buy my first flat white in eight weeks (and buy a second hand book) and had craft beer dropped off outside my flat from Piglove brewery. Walking around Leeds on my daily walk, in the yawning emptiness of the university, canals and streets, I have been lucky to have had the time, space and energy to remap the city with my feet. In a crude impression of a psychogeography walk, I have followed my impulses around the city centre, avoiding the main shopping streets and usual destinations to cross bridges I didn't know existed, wandered down side streets to discover artist studios, pretty typography and derelict buildings and get stuck down cul-de-sacs. And I've taken pictures of the things I liked.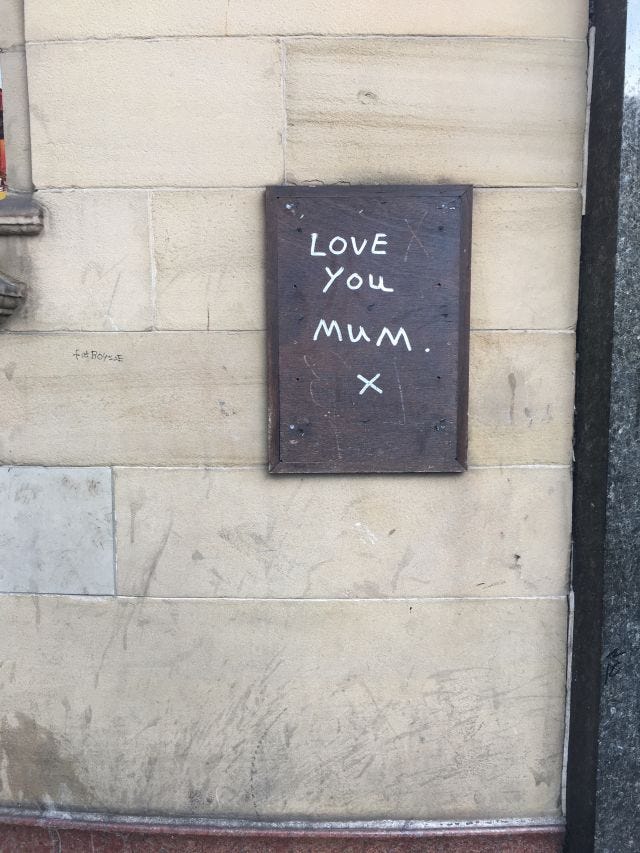 Good fonts in Leeds city centre

It's been thrilling to understand how my hazy teenage memory of getting lost in the dark bowels of the University of Leeds campus has been jigsawed into the real geography of the campus, how Instagram photos of the canal I would brood over now look like my sundrenched own and how taking small detours or turning down an unknown street has made the city feel more alive, more mine.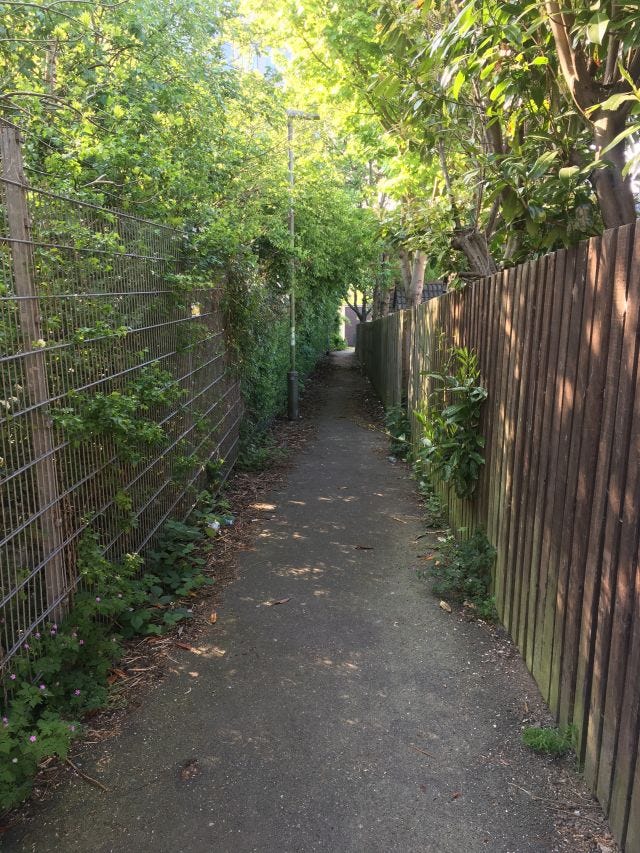 New routes

So, here are my top three walks around Leeds, discovered, refined and ranked during COVID-19.
3. The Leeds-Liverpool Canal
I've been fooled in the past by the romantic idea of a canal-side walk. Don't make my mistakes. The canals are full of strolling families, huffing runners and bell-ringing cyclists. Beautiful, yes, but you will miss the beauty because you're close to falling in the water, leaping out of the way of people to keep a safe 2-metre distance.
For my canal walks in Leeds, there are two options: begin at Leeds Dock (ghostly without the clusters of yoga-pants-wearing ladies having coffee at North Star Coffee), out towards Hunslet, or begin at Granary Wharf (which is similarly ghostly without girls like me having Aperol Spritzes outside the bars) and head towards Kirkstall.
My preference is for the walkout to Kirkstall: more bridges, more wildflowers and canalside houses.
Views along the Leeds-Liverpool canal as I walk towards Kirkstall

2. 'Behind the flat, up the steps'
I don't know what I assumed was behind our flat before I walked up the steep steps behind our communal garden and discovered family-sized houses (in the city centre!), closed pubs and shuttered factories. There's also some horror film steps leading up to an abandoned church, a field with a horse and a panoramic view of the city centre.
The steps behind my flat; the steps to nowhere; a closed factory
This walk is best when I don't fancy a big walk, maybe pre-lunch, when I just want to wander around suburban streets, listening to the soundtrack for Harry Potter and the Cursed Child slipping into my lifetime favourite daydream of being a Hogwarts student stuck in the muggle world for the summer, getting stuck in cul-de-sacs and trying not to look too suspicious to couples sat in their garden with their mid-morning coffees.
1. The University Loop
I discovered this walk by accident. It goes past Leeds Art Gallery and Leeds Town Hall, past Leeds General Infirmary, St George's Crypt and Fettle, over a bridge which I never knew existed, landing in a Woodhouse Square, which has blossom trees and a statue of a man.
Woodhouse Square and a man on a plinth.
Leeds has hills, did you know this? I always think of it as quite a flat city, with deep rumbling motorways underneath. I realised Leeds has hills when walking from Woodhouse Square, up Clarendon Road towards Woodhouse Moor. I usually stop at the top of Kelso Road and marvel at the view of imposing red brick townhouses and leafy trees, and the high view down to the Leeds suburbs. After I've caught my breath, I turn into the university.
My favourite entrance into the university is coming down past the new halls of residence and into Chancellor's Court. I slow my walk here and look at the buildings, which are like a vision of the future imagined from the 1970s; an optical illusion of concrete. There's a long tunnel high in the air running from one of the buildings to another, in the window someone had spelled out fart. I took my boyfriend there to point and laugh at it.
My boyfriend and F A R T in Chancellor's Court
On one of my many visits to the university I have also seen: rabbits, ducks, bluebells in St George Fields, a handful of other people who always smile and say hello.
I have no pictures of the ducks, sorry
The University of Leeds was the first university I ever visited when I was 16 on a school trip. With the blind arrogance of a clever teenager, one desperate to assert their identity and independence by moving away from the quiet suburbs they'd grown up in, I dismissed going to a university nearby as 'pointless'. Instead, the campus was for attending gigs in the student union, getting lost in trying to find The Faversham and walking past on the way to Strawbs.
Now I cut between the buildings, looking at the map and trying to find the different departments, the theatre, the pond with ducklings. Being deep in a university campus reminds me of sitting alone in Manchester Metropolitan University's 24-hour library in the first few months after I'd moved back up north. Writing after the other students had gone home, I felt a reassuring calmness: I was alone, time and possibility stretched out, stillness reigned. It's that feeling I try to hold onto as I walk back home.
Sara Sherwood is a writer from Leeds. You can follow her on Twitter and Instagram at @sarasherwood


---
If you have a tiny narrative to share please get in touch at thetinynarrative@gmail.com