You can now listen to an audio version of this newsletter below:
---
Since the start of lockdown, for over five months now I've made Jackie and myself nearly the exact same breakfast every weekday. It consists of some kind of toasted bread (bagel/sourdough/sliced white/fresh cob loaf) alongside a cup of tea with a swirl of honey for me and a coffee for Jackie (french press/pour over/stovetop espresso maker). Perhaps you can imagine nothing worse than the sameness of this, but I find comfort in the routine and not having to think about it. Just letting my hands move on autopilot as I wake up to the day.
Routine in lockdown, especially in this strange not-lockdown-lockdown-things-opening-up-again-but-still-sort-of-not, has become a blessing and a curse. But in a time of such uncertainty and distraction, the formula of genre conventions has bestowed upon me a predictable narrative I can cling to. For obvious reasons, genre: a set of conventions, tropes and styles, offer comfort when so much is unknown. Genre allows us to experience new stories but within roughly known parameters that can then meet or subvert our expectations for entertainment.
What I'm talking about, of course, is reality TV.
At the start of lockdown we blitzed through every variation of the Mostly Nice Talented People Compete in a Specific Skills Based Competition show. We watched The Great Pottery Throw Down, Blown Away, The Big Flower Fight, Bake Off: The Professionals and The Great British Sewing Bee. These shows all share common character types: the young, incredibly talented newbie; the Grandmother who makes things for her grandchildren'; the man doing the traditionally more 'feminine' craft (or vice-versa); the gay one; the 'Good Immigrant'; the Northern one etc. etc. There will be weekly challenges, there will be sad backstories, there will be overly confident contestants forced to reckon with failure and others who triumph after almost certain defeat. The judges will be a mixture of mean/overly-nice/clueless/experts. If the show is British everyone will, for the most part, pretend they are not competitive. Watching each programme leaves you with a sense of achievement even though you yourself have made nothing. But it's pleasing to watch others make things well or empathise with those for whom everything goes wrong.
I found my spiritual urtext for this formula in RuPaul's Drag Race, which I had resisted watching for so long but am now a fully paid-up member, despite Ru' 'fracking' Paul and all its many other foibles. Drag Race for those not in the know asks a group of drag queens to compete to become 'The Next Drag Race Superstar' through weekly 'mini' and 'maxi' challenges like writing and performing in a musical based on the life of the Kardashians, sewing and comedy challenges, or starring in satires of John Waters films. At the end of the show all queens must strut the runway to a specific theme, often based around categories from the New York ballroom scene (as famously and problematically charted in the documentary Paris is Burning). The queens are then judged on both their runway look and their challenge, with the two bottom queens required to 'lip sync for their life' to avoid elimination. The Drag Race empire now stretches over 12 seasons, four All Star seasons, holiday specials, celebrity editions and franchises in Canada, the UK, Holland and Thailand. Not to mention the 'behind-the-scenes' offshoots like Untucked, Pit-Stop and shows hosted by fan-favourite drag queens that make up the Wow Presents TV empire. All this is to say there's a lot to watch and I have been watching them all.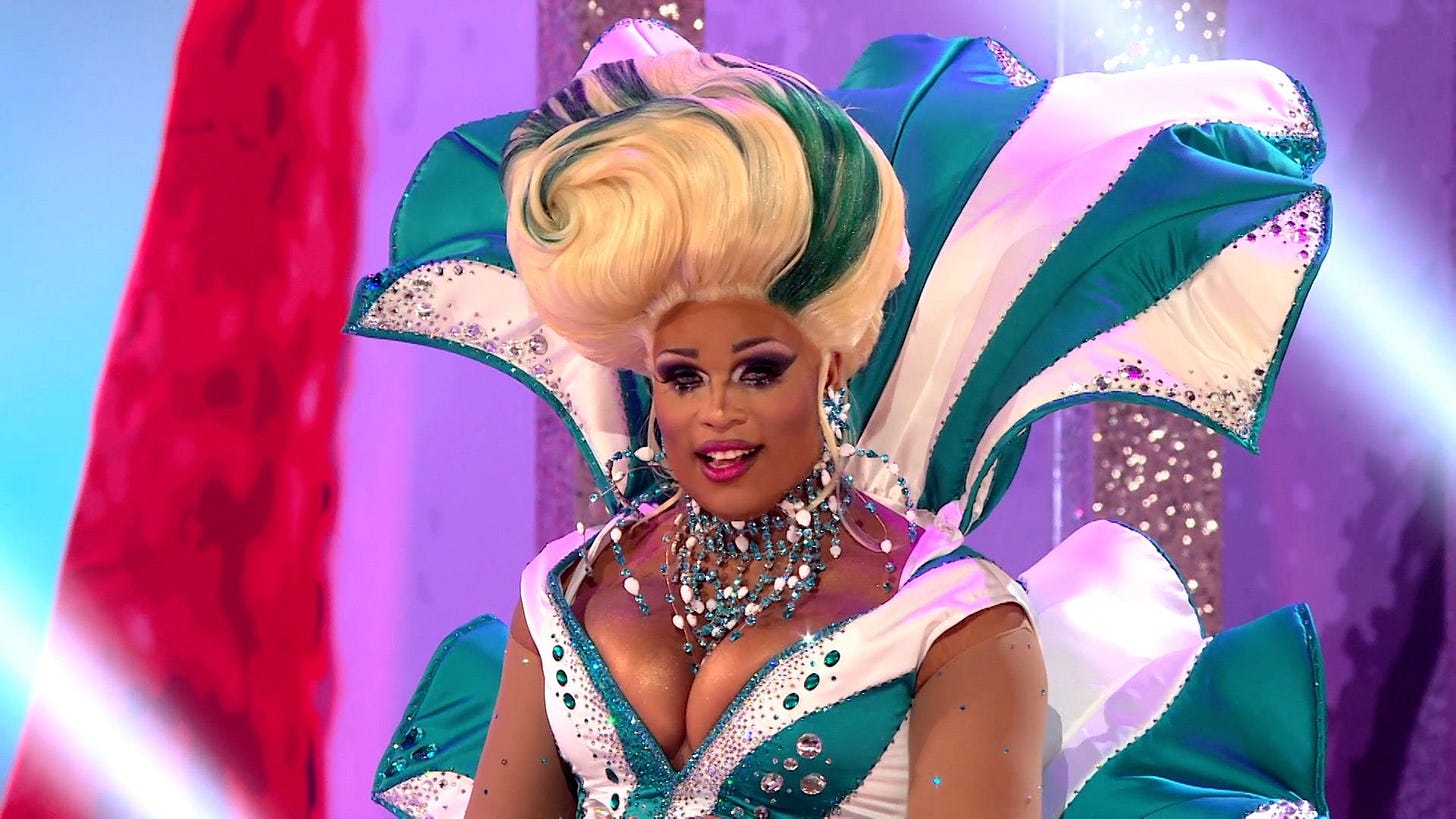 Drag Race gives all the comfort of the Talent Show formula and set challenges with the carefully curated storylines and confessionals of Reality TV — of which Selling Sunset, another programme we have binged in lockdown is perhaps the pinnacle of the genre of Watching Rich People Do Things. Drag Race's rise in popularity traces the rough trajectory of growing representation of queer people in media and at times showcased nuanced conversations around addiction, coming out and masculinity. It introduced us to recognisable characters readily made in the different kind of queens on the show from the Comedy Queens, Pagent Queens, Fashion Queens, Body Queens, Edgy Queens and the ones that, er, dance… good? It's wise of course to be wary of such clear typecasting and to attend to which kind of queens get to inhabit what roles. Rarely are Black and Latino queens seen to be the Fashion or Edgy Queens, categories usually reserved on the show for skinny white boys from New York. Similarly, fat and plus-size queens will often be pigeon-holed into the Comedy Queen role by the judges and other contestants regardless of how they perform.
Drag Race also suffers from a common fault with long running Talent Show competitions in that it becomes a satire of itself as it doubles-down on its own formula with superficial attempts to innovate. Double eliminations, the queen's tearful speeches to pictures of their baby-selves and RuPaul's prowling of the werkroom to interrogate any one who doesn't wish to display her emotional trauma for TV slowly become parodies of themselves. Likewise, as the series gained popularity the introduction of a public vote and pandering to a straighter, younger, more female demographic results in a very certain kind of winner (read: white, skinny, fashion-forward). Although the latest All Stars winner shows that it's not without exception.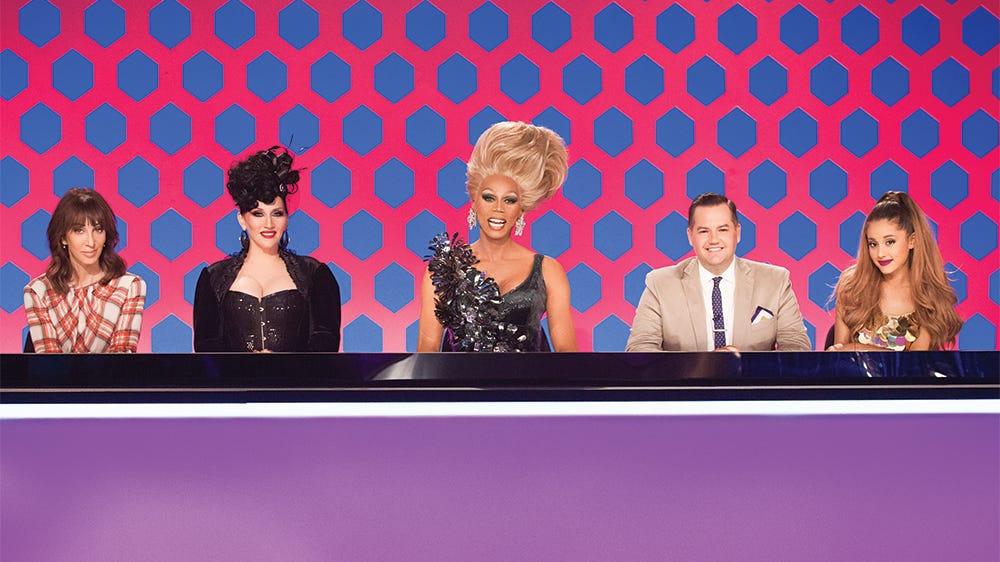 Despite all of these reservations Drag Race and its surrounding shows make for compelling watching. Indeed the latest spin-off, We're Here, a cross between Pricilla Queen of the Desert and Queer Eye which gives a new twist on the genre is joyful viewing and was just nominated for an Emmy. Yet still, I return to Drag Race. Each episode has a distinct narrative arc and the confessionals and challenges are deftly edited to inspire you-love-to-hate-them villains and underdog fan-favourites. The delight of genre is that if your mind wanders for a few moments (and who's isn't during this pandemic?) or if your eyes slide to your phone to doomscroll you're not going to miss too much. It's reassuring to know the show will barrel on towards its inevitable judging and elimination with or without you and your attention. In the face of so much uncertainty in our world, I find such solace in knowing that when Valentina definitely did not know her words to her lip sync she was about to take a long walk off a short pier. And I only have genre to thank for that.
*
Edit: Last week there was the sad news that Drag Race alumnus Chi Chi Devayne had passed away. She was an incredible performer and I just wanted to take a moment to remember her style, charm and talent which entertained me so much in lockdown.
---
Our archive can all be found here
If you have a tiny narrative to share please get in touch at thetinynarrative@gmail.com